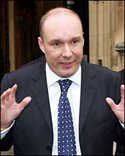 So the Government has lost two key votes on the dreadful Religious Hatred Bill. The second vote was lost by one vote. Strangely, Tony Blair absented himself from that vote. I wonder why? So another Commons victory for the Shadow Home Affairs team. David Davis will be a very happy boy tonight. And so will Shadow Attorney Dominic Grieve, who has done the legwork. He described the defeats as "a victory for Parliament" and said "This has showed tonight that we will stand up for freedom of expression." Sometimes bad legislation gets its just desserts and this is one of those times. Well done to both Opposition parties, and indeed the large band of Labour MPs who rebelled. Credit where its due. The LibDems have been staunch in opposing this Bill. The fact that Mark Oaten returned today ensured the second vote went the right way. At least he's got something to be proud of again. Someone else who can be proud themselves tonight is my friend Michael Gove. By all accounts he made the best speech heard in the Commons for some time.
PS. Anyone give me the odds on Hilary Armstrong keeping her job in the reshuffle?
PPS. Have you voted in the Mark Oaten poll yet? Look to the left hand side of the screen.
UPDATE: The following speeches are now online. Click on this