Many of you (and various other bloggers) got very exited over the weekend
when I wrote that I consider the BNP to be an intrinsically left of centre party
, with very little in common with those of us on the right. Longrider has an excellent post today defending what I said and attacking the leftists who threw their toys out of their prams. But the totally independent
British Political Compass
has come to my aid too, with this natty little diagram showing where each political party falls on the right/left libertarian/authoritarian axes. The BNP is shown clearly on the left.
Anyway, I thought I would take the
UK Political Compass test
. The red mark indicates my offical result, whereas the green dot indicates where I think I really am!
Comparing this to the diagram at the top of the page, I have come out way too close to the LibDems for my liking! Must have been all those answers about the free availability of pornography... :)
I then took the US equivalent, which
Donal Blaney did last week
.
My Political Views
I am a right moderate social libertarian
Right: 5.56, Libertarian: 1.75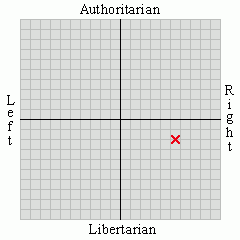 Political Spectrum Quiz
My foreign policy and cultural views are a little more centrist...
My Foreign Policy Views
Score: 0.86

Political Spectrum Quiz
My Culture War Stance
Score: 0.56

Political Spectrum Quiz