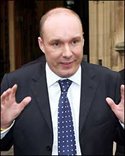 Over the last week we've been running a poll on this blog on whether Mark Oaten should stand down as MP for Winchester. 345 people voted, and the result is...
Yes, he should stand down 49%
No, he shouldn't 51%

Bearing in mind that we get quite a few LibDem visitors to this site I would say that is too close for comfort. I would have predicted a 33-67 result.