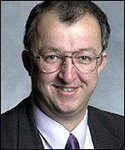 So Ming Campbell is first out of the traps, to be possibly closely followed by - now wait for this, er,
John Hemming
. How deluded can you get? I quote from his
Blog
:-
"I have always said that it is a job that I was interested in doing at some stage.I am currently in the process of taking soundings as to whether or not I should stand. There are quite a few people in Birmingham who are quite enthusiastic about that idea."
John Hemming used to lead the LibDems on Birmingham City Council and has, how shall I put it, a
colourful private life
. Just what the LibDems need, I would have thought! This sad, deluded
adulterer
obviously doesn't realise he needs 7 MP nominations in order to be able to stand.